as unidades mínimas do sensivel
a live sculpture
a transforming landscape
a movement of zoom in and zoom out
between the whole and the minimal units
between the similar and the different
a gleaning from the field of perception
an immersion into a physical, imagetic and sound experience
In this project, we work on the idea of difference and repetition, on the difference inside the repetition, on the time of an image and its relation to the sound. How does the same image, while being repeated, enable different lectures?
The piece progresses through variations of sound atmospheres, created live, revealed over the gesture's cadence. The whole journey happens in a movement of "zoom in" and "zoom out", between the "whole" and the "minimal units" and between the similar and the different.
as unidades mínimas do sensivel is a dialog between visible and invisible, representation and abstraction, sensible and concrete.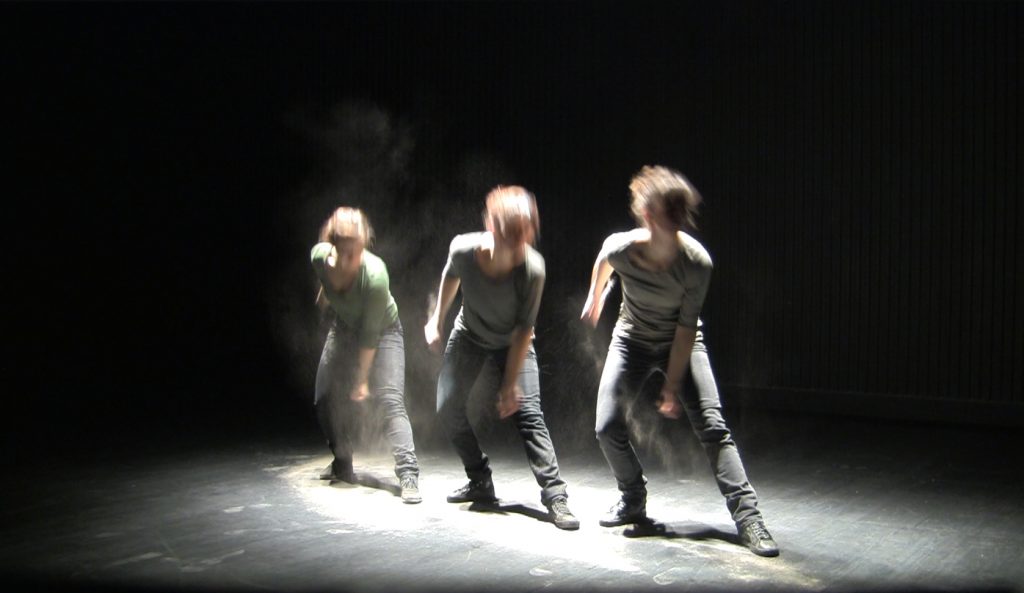 Creation & Interpretation Alina Bilokon | Léa Rault | Urândia Aragão
Artistic Advice Carlos Manuel Oliveira | Cristina Rizzo
Light Advice Thomas Walgrave
Production Forum Danca | DEPARTS
Co-Production O Espaco do Tempo – Montemor-o-Novo | CAE – Centro de Artes e Espectaculos da Figueira de Foz.
Artistic Residencies Forum Danca (ex-PEPCC residency program is supported by DEPARTS network. DEPARTS is financed by the culture program of European Union) | O Espaco do Tempo, Montemor-o-Novo | corpodehoje | Centro de Artes e Espectaculos, Figueira de Foz.
Acknowledgements David Leitão | Filipe Dias | Jérémy Rouault | Laura Lopes | Loïc Touzé/ Association Oro & Studio Honolulu | Margarida Mestre | Paola Stella Minni | Raïssa Kim | Raul Pinto | Tiago Coelho | Vera Mantero.
This collaboration between Alina, Léa & Urândia started in 2012 within the scope of PEPCC / Forum Danca (Lisbon 2010-2012)