as unidades mínimas do sensivel
une sculpture vivante
un paysage en mutation
un mouvement de zoom in et zoom out
entre le tout et les parties minimes
entre le similaire et le différent
un glanage dans le champ de la perception
une expérience physique, imagétique et sonore
Dans ce projet, nous travaillons sur la différence à l'intérieur de la répétition, sur le temps d'une image, et la relation de celle-ci au son et à la lumière. Comment est ce qu'une même image, de par sa répétition, permet différentes lectures ?
La pièce progresse à travers des variations d'ambiances sonores, créées en direct, qui se révèlent sur la cadence du geste. Le voyage se passe dans ce mouvement de « zoom in » et « zoom out », entre le tout et les parties minimes, entre le similaire et le différent.
les unités minimes du sensible un dialogue entre le sensible et le concret, le visible et l'invisible, la représentation et l'abstraction.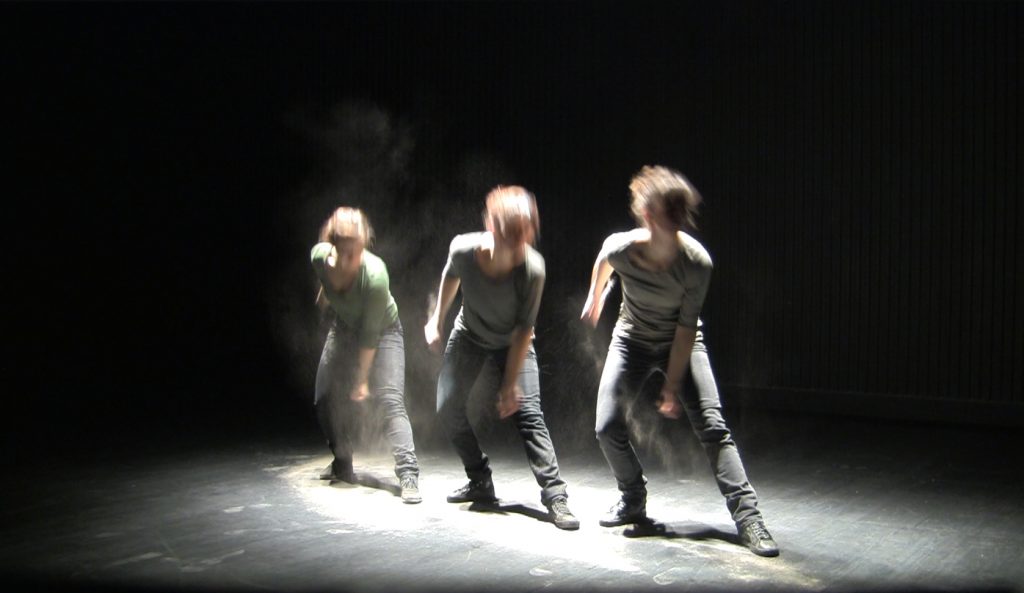 Creation & Interpretation Alina Bilokon | Léa Rault | Urândia Aragão
Artistic Advice Carlos Manuel Oliveira | Cristina Rizzo
Light Advice Thomas Walgrave
Production Forum Danca | DEPARTS
Co-Production O Espaco do Tempo – Montemor-o-Novo | CAE – Centro de Artes e Espectaculos da Figueira de Foz.
Artistic Residencies Forum Danca (ex-PEPCC residency program is supported by DEPARTS network. DEPARTS is financed by the culture program of European Union) | O Espaco do Tempo, Montemor-o-Novo | corpodehoje | Centro de Artes e Espectaculos, Figueira de Foz.
Acknowledgements David Leitão | Filipe Dias | Jérémy Rouault | Laura Lopes | Loïc Touzé/ Association Oro & Studio Honolulu | Margarida Mestre | Paola Stella Minni | Raïssa Kim | Raul Pinto | Tiago Coelho | Vera Mantero.
les unités minimes du sensible a été créée par Alina, Léa et Urândia dans le cadre du PEPCC / Forum Dança (Lisbonne-2010/2012).